Although I'm obviously well known as a PC guy, I'm no stranger to other
systems. Before PCs, I used Apple ][s as well as CP/M based computers
including Osborne, Kaypro, Altos, and Molecular systems. I have kept a number
of my older PCs, but the oldest system currently in my collection is an
example of my *first* personal computer - a Bell & Howell Apple ][+, known as
the "Darth Vader" model due to its black color.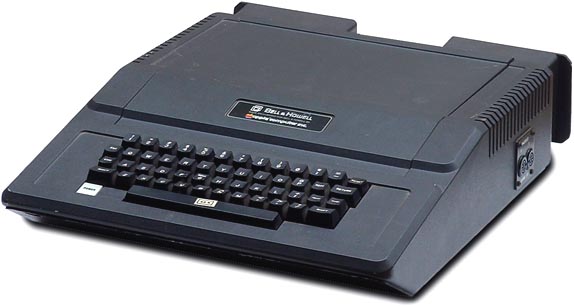 But the one I have now is *not* the same one I actually used in the early
'80s. Here's my Apple ][ story:
The Apple ][ was introduced in 1977, and was to personal computing in the late
'70s and early '80s what the PC is today; a defacto standard that was
upgradable, repairable, incredibly flexible, and relatively inexpensive. In
particular I owned a Bell & Howell "black" Apple ][+, which was a special
model sold primarily to schools and educational institutions:
http://www.macgeek.org/museum/bhapple2plus
I had filled all 8 slots with expansion cards, installed numerous other
aftermarket upgrades and accessories, and mostly ran CP/M, the most popular
openly licensed operating system of the day.
In 1981 I began teaching seminars using the Apple ][+. The most popular class
I taught back then was on VisiCalc:
http://www.danbricklin.com/visicalc.htm
VisiCalc was the first spreadsheet program for personal computers, and became
the "killer app" that made the Apple ][ and compatibles one of the most
popular personal computers for business. As an interesting aside, one of my
classes in '82 was attended by one of the Judges from the famous Apple vs.
Franklin lawsuit. Franklin had copied the Apple ROMs in its Apple ][ clone,
and Apple sued them for copyright infringement:
http://oldcomputers.net/ace100.html
During 1983, Lotus 1-2-3 came on the scene and quickly took the spreadsheet
market away from VisiCalc. Since 1-2-3 only ran on the PC, this caused a
wholesale migration in the business marketplace from the Apple ][ and
compatibles (like Franklin), to the IBM PC and compatibles. Following this
trend, I purchased an IBM PC-XT and began teaching 1-2-3 seminars using PCs.
Having a substantial investment in my Apple at the time, I was unfortunately
forced to sell it in order to help pay for my new XT.
Fast forward to the late '80s, when I found out that Bell & Howell was having
a huge liquidation sale. Growing nostalgic for my old "black" Apple, I
attended the sale, and to my amazement they had a *brand new* Bell & Howell
Apple ][+ for only $300. As a bonus, unlike my original system, this one also
had the rare "Rear Power and Accessory Unit" which Bell & Howell added to
their premium educational models:
http://www.oldcomputers.net/bellandhowell.html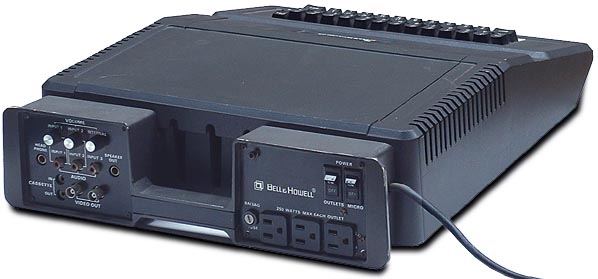 I bought the system, which was officially called a "Bell & Howell Model
3048D". It has a B&H Serial No. 2329033, and an Apple Serial No. A2S3-033564.
To this day it is still new in the original box, with the original B&H
supplemental manual, warranty sheet and survey form, as well as the three
standard Apple ][+ manuals still shrink-wrapped.
After finding this NOS (new old stock) system for such a bargain price, I
thought it would be interesting to see if I could locate the same upgrades and
accessories as I had in my original system as well. I realized at the time
(late '80s) that the peripherals I originally had were not going to be
available much longer, if they were still available at all. I immediately set
out to locate and purchase as many of the items as I could to duplicate my
original setup. Most of the items had been long since discontinued, so I
called many Apple dealers and had them check their inventory for unsold stock.
In my quest I had to make a couple of changes, for example I originally had
two separate Apple Disk ][ full-height 5.25" floppy drives in B&H black:
I also had a non-matching Zenith composite monochrome monitor like the one on
this site:
http://www.vintage-computer.com/apple_ii.shtml
Unfortunately there were no Disk ][ drives available at the liquidation sale,
and I didn't really want another non-matching monitor, so I purchased a new
Apple DuoDisk drive along with a new Apple Monitor //. The DuoDisk included
two drives in a single unit, and the Monitor // had a special anti-glare
coating and tilt CRT. A fringe benefit of these changes is that the DuoDisk
and Monitor II were designed to fit perfectly on top of the Apple ][ chassis
and compliment the styling as seen here:
I contemplated painting the DuoDisk and Monitor // units in matching B&H
black, but of course I never got around to it. <g>
In my hunt I eventually acquired the following items, all brand new in their
original boxes:
Apple DuoDisk, interface card, and cable
Apple Monitor //
Microsoft SoftCard "Premium" - which enabled the system to run CP/M, upgraded
the video from 40 to 80 columns, and increased the RAM from 48K to 64K.
http://apple2history.org/museum/periphe ... tcard.html
-The premium package included a Videx Videoterm 80-column card and a
Microsoft RamCard.
http://www.apple-iigs.info/doc/fichiers/videoterm.pdf
http://www.apple-iigs.info/doc/fichiers/msram.pdf
Videx Keyboard Enhancer ][ - which added lowercase support to the keyboard.
http://www.apple-iigs.info/doc/fichiers/videxen2.pdf
Videx Function Strip (for Enhancer ][) - which added a set of user-definable
function keys.
http://tinyurl.com/wsx7y
CCS Asynchronous Serial Interface 7710-01 - a standard RS-232 serial port.
MicroPro StarCard (PCPI Appli-Card) 6MHz Z80 w/64K - an 3x faster alternative
to the Microsoft SoftCard, and included the WordStar word processing program.
http://www.mylinuxisp.com/~jdbaker/olds ... iCard.html
Kensington System Saver Fan - a side-mounted fan for keeping the system cool.
http://www.25.kensington.com/html/11475.html
Practical Peripherals Microbuffer ][ Parallel - a parallel port with an
internal buffer.
http://www.applefritter.com/node/4964
Practical Peripherals Snapshot w/breakout switch kit - a software copy and
debugging card.
To this day, all of these items are still brand new in their boxes, in fact many of them are
still shrink wrapped having never been opened! One day I plan to put it all
together and power it up. I sure hope it all works... <g>